Welcome Sunder Carpet Company website:
Sunder Carpet Company sister concern Vishal Carpet Company takes pleasure in introducing itself as a leading and highly recognized oriental carpet & drugget manufacturers & exporters in India. The company established in the year 1979 by Mr. M. L. Gupta, the company grew stead fasting mature, responsible, resilient and dynamic entity. It is recognized & respected not only for its quality products that it makes but also for the way it conducts its business.
Our Craftsmen:
Experienced Team of Craftsmen:
We are backed by a diligent team that is highly dedicated to serve the satisfaction of our clients at prime. Attributing to their persistent and sincere efforts.
Quality Policy :
Sunder Carpet Company sister concern Vishal Carpet Company being a quality concerned firm, we assure 100% quality in the products we manufacture. We never compromise on the ground of quality under any circumstances. We are renowned to provide high grade quality hand made home furnishing products across the world. We have an expert quality control team to monitor overall production process. Each and every component produced in our firm is duly examined before final delivery to the client.
Our Products :
Handtufted Persian
Indo-Nepali Natural
Handmade woollen dhurries.
Hand Loom
Moroccan
Woolen Carpets & Rugs
Kazak
Kazak Natural
Kelim
Cotton Dhurrie
Rib Cotton Dhurrie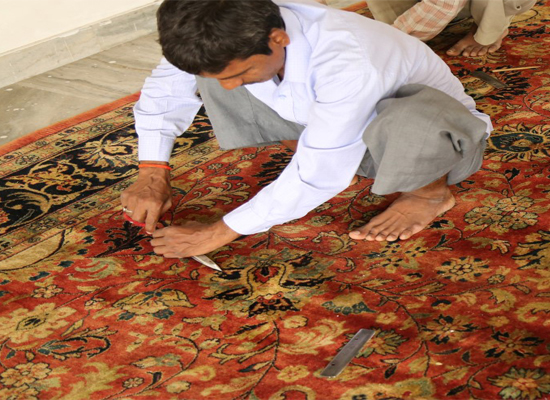 Child Labour:
We also take care all our Carpets are free of child labour.
Social Responsibility:
We have given land to Rugmark foundation for running a Rugmark school.
In House Campus:
All hand knotted, handloom and Indo nepali rugs are being manufactured in our own campus under our supervision to control the quality of weaving and secrecy.
Registrations :
a) Carpet Export Promotion Council,
b) RUGMARK Foundation, New Delhi
c) Care and Fair
d) Goodweave
e) SA 8000-2014 Certified
f) Wool mark Registered
Wool:
We use different kinds of wool like: New Zealand Wool, Hand Spun, Imported and Indian mix Kind of Wool.
Clients:
We have huge clientle in Germany, Spain, Netherland, Austria, USA, U.K., JAPAN, China and many more countries.
For more please visit our showroom inspired designs and Endless possibilities.